By Mike Wright
Photos by Chris Paparo / @fishguyphotos
Summers in Montauk are already peaceful, playful, and visually stunning. How about adding some of nature's most spectacular creatures, humpback whales, breaching just off-shore for all to see? That would be too much to ask for. Or would it?
Montauk's ocean beaches have always been a great place to spend the day just soaking up your surroundings in this holiday heaven. The sand between your toes, the warm sun, the cornucopia of beautiful people and interesting characters who flock to our shores.
But in recent summers there has also been another sight to behold, one that is becoming an increasingly common addition to the human carnival on land: whales. Humpback whales, specifically, among a smattering of other species, have put on quite a show off the beaches of Montauk in the last several summers – lunging from the water, their mouths agape as panicked baitfish fling themselves into the air in a desperate attempt to escape becoming a breakfast.
On most mornings and many afternoons during the last few summers the whale breaching displays have stunned and delighted crowds of awestruck beachgoers, who streamed to the waters edge to get as close to the leaping leviathans as possible.
Whales have always been in the background of our shorelines, but it's been decades since they were this prevalent just a few hundred feet off our bathing beaches, a phenomenon that has gotten more and more common in the last several years.
Since the days when they were nearly hunted to extinction, the Atlantic's whale populations have gradually grown (with the exception of the critically endangered northern right whales).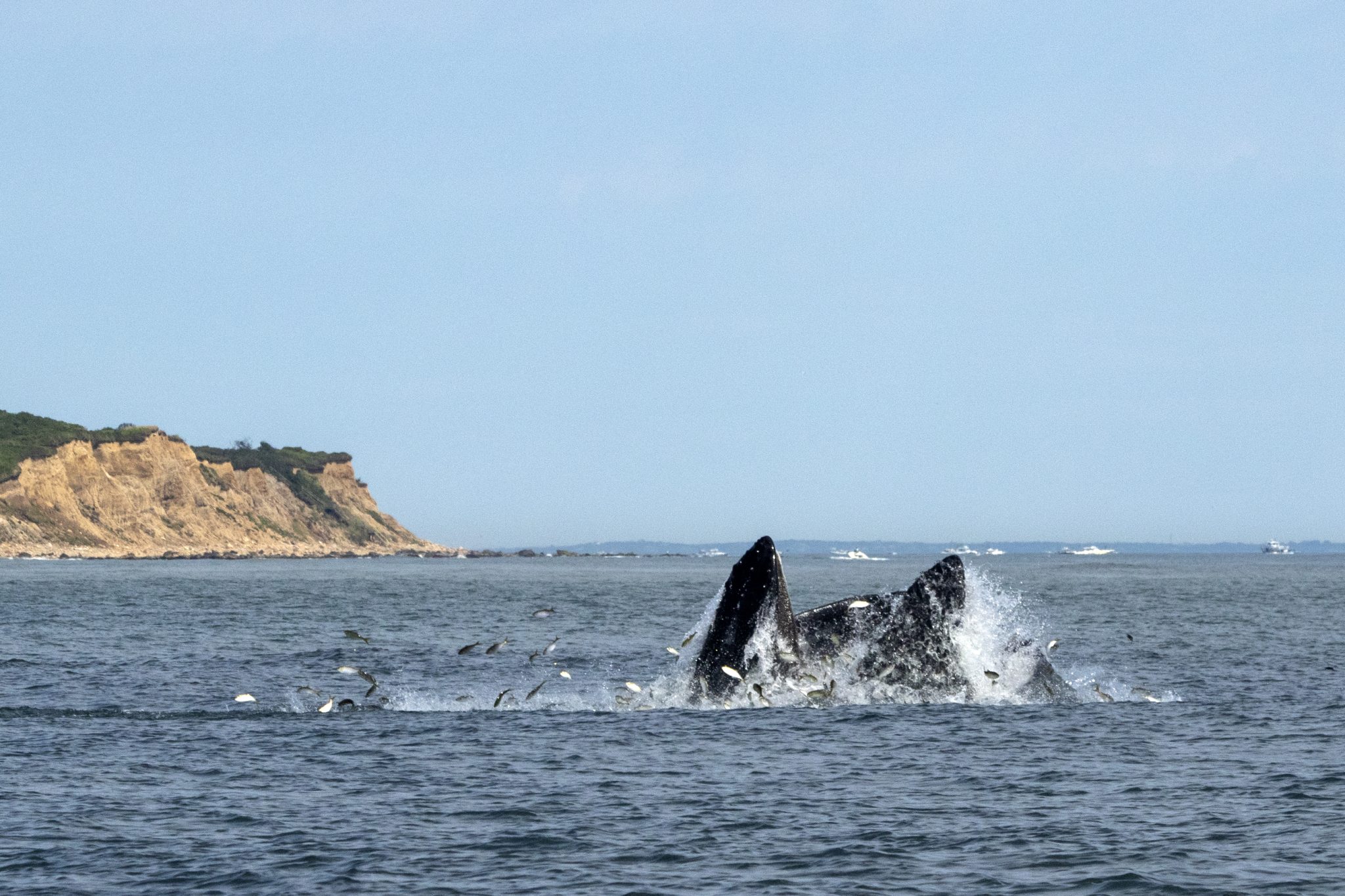 "Breaching whales have stunned and delighted beachgoers"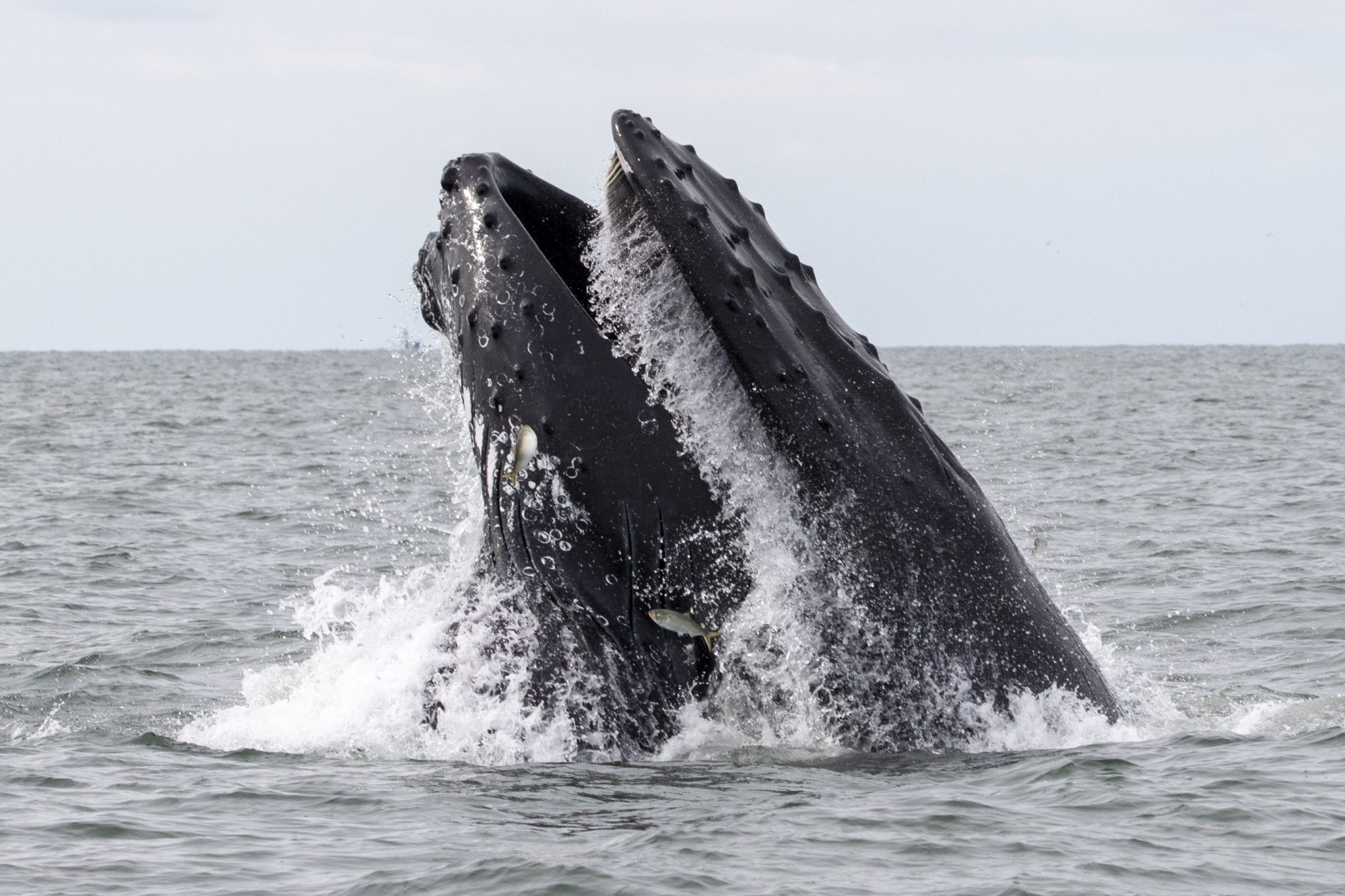 Humpback whales are now the second most common species of whale in the western Atlantic and also the most recognizable because of their uniquely long, white pectoral fins that they tend to show off a lot…sometimes slapping them on the water's surface.
It's not just increasing abundance that has brought whales back to our shores, but also a huge increase in the number of baitfish that whales like to eat – especially a fish species called menhaden, more commonly know as "bunker."
Since 2012, when commercial harvest of bunker for use in things like fish oil pills was greatly curtailed, the number of bunker along the Northeast coastline has exploded. These fish gather in dense schools, sometimes very close to the beach, that can blacken the water for acres.
In most summers now, there are bunker schools spread out all along the shoreline from Montauk to Hampton Bays. Whales can set upon them anywhere in that stretch, but they do seem to have preferences and will feed in the same general area for several days or weeks.
The best time of day for finding whales feeding on a bunker schools during the last few summers has proven to be in the mornings – usually a couple hours after sunrise, so from about 7 a.m. to about 9 a.m. – and early to mid-afternoons. The spectacle is hard to miss if you're near the beach and the feeding starts! So this summer, don't just take in the human sights during your time in Montauk, go find some of Mother Nature's other beautiful creatures in action.