Montauk has more hotels and motels than any other Suffolk County destination. Some are small family owned establishments, others luxury resorts. Now that the summer season is over, many hotels and motels offer off-season specials. Check with each hotel for off-season rates and promotions.
Montauk's season is generally defined as the last weekend in June to Labor Day weekend. However, most businesses begin to open in April and May, and many do not close until November or December.
For information about lodging, select an area of Montauk listed in the main navigation. All hotels, motels, and B&B's in that area are listed. Download the Montauk map to view the location of these areas in Montauk.
In the Harbor
Montauk Harbor, on the north, or bay side, of Montauk, has restaurants near the water or docks, upscale shopping, and is home to many of Montauk's charter, party, and commercial boats. Whale-watching tours, ferries to Block Island and New London, and sunset cruises originate here. 
HARBORSIDE RESORT AND MOTEL
371 West Lake Drive
montaukharborside.com
631-668-2511
Twenty-seven tastefully decorated, air-conditioned rooms, studios and suites, with kitchenettes and wi-fi. Amenities include a pool and tennis courts. A short distance to Montauk Harbor. Open March–December.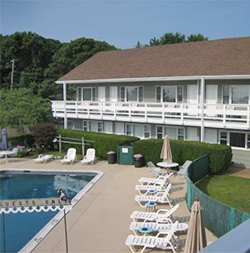 SNUG HARBOR MOTEL AND MARINA
3 Star Island Road
montauksnugharbor.com
631-668-2860
Located on the water in the Harbor, 34 units from poolside bedrooms to Harbor-side apartments, offering air conditioning, Wi-Fi, a pool, and BBQ. Snug Harbor is also a full-service marina. Pets allowed in some units. Open March–November.
UIHLEINS MOTEL
10 Wells Avenue
uihleinsmarina.com
631-668-3799
Friendly small motel with 7 units equipped with full kitchens, flat screen TV, Wi-Fi, A/C. Grounds have BBQs, a putting green with mini golf course, play area and room to relax. Discount on boat rentals. Open all year.

In Montauk Village
Main Street is just three blocks away from the ocean beach. All the hotels, motels and inns are an easy walk to many of Montauk's restaurants, shops, bars and nightlife. Many activities take place on the Village Green, within the circle, especially during the summer. 
OCEAN SURF RESORT
84 South Emerson Ave.
oceansurfresort.com
631-668-3332
Right on the beach and in the village, Ocean Surf Resort's location is unassailable. Add peaceful surroundings, extraordinary scenery and superb accommodations and you've scored. A variety of rooms to choose and endless options for fun in the town and on the sand, which is right outside the door.

On Old Montauk Highway and in Napeague
West of town the undulating Old Montauk Highway is flanked by bucolic Hither Hills and Hither Woods neighborhoods on one side (north), and wide, beautiful Atlantic Ocean beaches on the other (south). Great views and wide, sandy, uncrowded beaches abound here. 
BREAKERS MOTEL (AND RESTAURANT)
769 Old Montauk Hwy
breakersmtk.com
631-668-2525
Boutique motel with chic eponymous eatery, Breakers sports some of the most striking ocean views and amazing food in Montauk. This legendary seaside property built in the 50s and recently revitalized offers 25 rooms, direct beach access, a choice new café & bar, a private ocean-view guest lounge, guest wellness programming, and poolside service. The beach on this stretch of sand is wide and gorgeous. Morning beach runs, nightly bonfires…it'll work.

LENHART'S COTTAGES
421 Old Montauk Highway
631-668-2356
Spectacularly situated, charming cottage complex amidst undulating, manicured grounds directly across the street from the beautiful Hither Hills beach. Twelve cottages with kitchens, ocean views, A/C, and log-burning fireplaces. There is a pool, gardens and lots of lawn space. Open all year. Lenhart's has a loyal following of returning guests and pets.

WAVECREST ON THE OCEAN
170 Old Montauk Highway
wavecrestonocean.com
631-668-2141
A spectacular location right on a stretch of secluded ocean beach. Seventy units with pool, tennis, kitchen, and A/C. Studios and suites, all with private terraces overlooking the ocean. Open April thru October.

On Fort Pond AND BAY AREA
MONTAUK MANOR RESORT
236 Edgemere Street
montaukmanor.com
631-668-4400
Historic, grand building with a beautiful vaulted rotunda and old-world character on a 12-acre hill with views of Gardiner's Bay and Block Island Sound. One of Montauk's most storied structures. Ample parking on site with shuttle bus services. 140 studio, one, two, and three bedroom apartments with indoor and outdoor pools, tennis, kitchens, A/C, and wi-fi. A restaurant on premises serves guests and the public. Open all year.

MONTAUKET
88 Firestone Rd
631-668-5992
Drinks, Dinner, Late Night: Sunset views! This iconic family-owned bar/restaurant/hotel is a local favorite serving casual seafood fare (lobster rolls & calamari, etc.), great drinks and killer sunsets in an old-school Montauk cliff-side setting overlooking Fort Pond Bay. Laid back and chill, with local bands like Jettykoon frequently playing. Get there before sunset to score a choice patio spot for the views.

SOLÉ EAST
90 Second House Road
soleeast.com
631-668-2105
Sole East is a hip spot with a stunningly beautiful courtyard containing a full-service restaurant and lounge, swimming pool and expansive lawn with mature trees and landscaping.  Entertainment and weekend pool parties feature in season. 60 renovated rooms, one-bedroom suites, and 7 garden suites. Heated pool, gardens with wood-burning fire pits, wi-fi, IPOD docking stations. Popular for receptions and wedding parties. Pets welcome. May thru October.