BY DEBBIE TUMA
June 24, 2018
Pretend for a second that you could wander off the beach in downtown Montauk and hit a casual, delicious eatery with a huge assortment of fresh, affordable seafood dishes that you could take out or enjoy at curbside tables with family and friends. This is now a culinary dream come true for so many of us thanks to the recent opening of "Hooked," an expertly run eatery at 34 South Etna Avenue just a few blocks from the ocean dunes.  It won't be hard to get "hooked" on their extensive menu of raw clams and Montauk Pearl oysters (from Montauk's own oyster farm), steamers, mussels, lobster salad rolls, fish tacos, soft shell crabs, raw tuna bowls, homemade chowders, and more.
Huge blackboards above the counter show all kinds of classic and creative seafood dishes, including Tuna Bites, Lobster Mac & Cheese, Grilled Tuna, Swordfish or Mahi Mahi, Fish n' Chips, Crab Cakes, and Fried Whole Belly Clams. Landlubber options like Hamburgers, BBQ Baby Back Ribs, Veggie Burgers, and salads abound, too. A robust "Guppie" menu for kids is also available.
Hooked is the brainchild of Gillian and Brian Mooney, who both hail from Dublin, Ireland but met in Montauk, where they now raise a family. They are no strangers to the food business. Brian managed and cooked at The Clam Bar in Napeague for 24 years, garnering a fiercely loyal following that, judging by a recent lunchtime visit to Hooked, has followed him, while Gillian owned and operated Herb's Market for 11 years.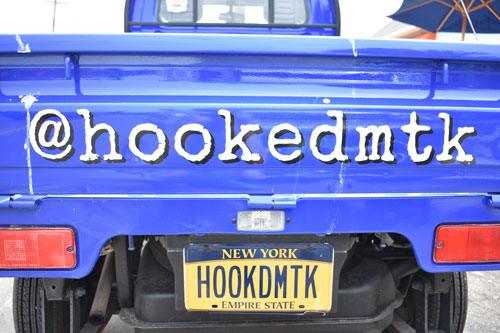 Brian explained that many families want high quality, healthy food that is quick, casual and has a take-out option. Enter Hooked. "We actually do more grilling than frying," he smiled, although for fried food lovers there is still Fish n' Chips and boats served with fried scallops, shrimp, crab cakes, and fishwich sandwiches, all served with fries, including a delicious sweet potato version. "We decided to team up and bring restaurant quality food that's affordable to both locals and tourists," said Gillian Mooney. "We felt there was a need for what we call 'elevated take-out,' in Montauk."
Walking into Hooked, you see a long counter along the front window where people can sit and people watch. The walls are decorated with an assortment of nautical items like buoys, ropes, swordfish swords, driftwood and even a lobster trap that the Mooney's have collected over the years. Outside stand a dozen or more colorful picnic tables with umbrellas that are perfect for family or group dining. 
On my recent lunch visit the place was bustling as Gillian and her staff ran around behind the counter in their "Hooked", "Eat Like a Local" shirts. While my dining partner and I stood in line to order, we met Tess McNamara, of NYC, who was happily devouring an overstuffed lobster roll. "I have been following Brian Mooney since he managed and cooked at the Clam Bar in Nappeague," she said. "I love his food, especially this lobster roll."
We decided to sample some of their many seafood delights, starting with the rich and creamy Lobster Bisque and the spicy, creative "Kickin' Crab & Corn Chowder." We then shared a large and hearty "Hooked House Salad," which was a wonderful combination of fresh kale, quinoa, cranberries, cotija cheese and orange segments served with a tangy, cranberry citrus vinaigrette. 
One of my favorites was the "Tuna Poke Bowl," consisting of a generous portion of raw tuna marinated in a delicious Southwestern cilantro vinaigrette served over sliced pickled cucumber, shitake mushrooms, scallions, and Soba noodles. The Fish Tacos were anything but ordinary; two soft tacos filled with grilled Mahi Mahi and topped with mango salsa, sriracha mayo, and broccoli slaw. And yes, the quintessential lobster rolls were scrumptious. Oh, and you can get whole, cooked lobsters to go, which we'll try next time!
"Hooked" is open daily, from 11:30 a.m. to 8 p.m., and they are located at 34 South Etna Avenue, in downtown Montauk. Call 631-668-2111, or visit www.hookedmtk.com. One bite and you're hooked!!!"